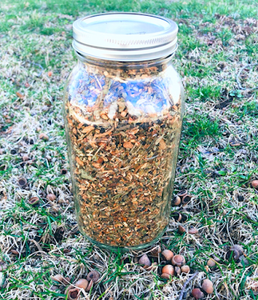 H.B.Y full body detoxification Cleanse.
BLOOD, GUT/DIGESTIVE, LUNG, HEAVY METALS, IMMUNE SYSTEM, ANTI-INFLAMMATORY .
(It is recommended that you fast while using these herbs to cleanse and heal your body. Fruit/veggieJuice fast,  water fast etc. you can not cleanse your body Out while continuing to put food in. If you must eat make sure you are eating a raw food diet while trying to cleanse!)
Regular dosage:1 teaspoon of herb per cup of water
Strong dosage: 1 tablespoon of herb per cup of water
Bring distilled water to a boil add herbs and a low boil for two hours
4 ounces- three to four times a day atleast every 2-3 hours apart.
Followed with at least 8oz - 12 oz of distilled water 5-10 mins after consuming.
For more serious aliments, ONLY If the body is acclimated, can go to 6 ounces three times a day
 (Although Sometimes less is more)
(caution extremely bitter. Add lemons limes ginger, Mint etc for better taste. The most powerful herbs on earth are extremely bitter)
The FDA has not evaluated these statements. This product is not supposed to diagnose, treat, or cure any disease. Results may very from person to person.
 DISCLAIMER: THIS WEBSITE DOES NOT PROVIDE MEDICAL ADVICE. THERE ARE NO GUARANTEED CLAIMS BEING MADE ON ANY OF THE PRODUCTS OF THIS WEBSITE.  

The information, including but not limited to, text, graphics, images and other material contained on this website are for informational purposes only. The purpose of this website is to promote broad consumer understanding and knowledge of various health topics. It is not intended to be a substitute for professional medical advice, diagnosis or treatment. Always seek the advice of your physician or other qualified health care provider with any questions you may have regarding a medical condition or treatment and before undertaking a new health care regimen, and never disregard professional medical advice or delay in seeking it because of something you have read on this website.