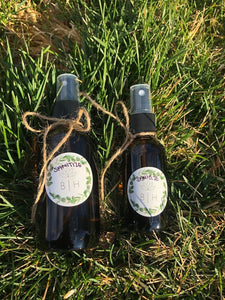 Directions: 
Give 2oz sanitizer bottle slight shake to activate essential oils.
1-2 sprays on desired area.
.
.
.
Uses:

Hand sanitizer
Phone cleaner
Small surface area cleaner (steering wheel, doorknobs/ handles, Touch screens, shopping carts)
FIRST-AID DISINFECTANT.
.
.
Ingredients:

isopropyl alcohol 99%
aloe vera
hydrogen peroxide
distilled water
organic essential oil blend:
lemon
lavender
tea tree oil
stored in a glass bottle for sustainability of the environment. essential oils should also never be in plastic as they degrade the plastic and will create the chemicals from the plastic to leech into the product.
.
.
Mainstream hand sanitizers does not contain any ingredients to kill a virus. 
Here Is some information on our essential oil blend.
Lemon essential oil and tea tree essential oil are BOTH anti-bacterial AND anti-viral. They contain properties that kill both as well as being anti-microbial. They kill the bad bacteria and never harm the good.
.
.
Compared to a commercial sanitizer which contains ingredients that not only kill the bad but destroy our bodies natural microbiome as well. The human microbiome is not just in our gut, but all over every inch of our skin. It's so important to keep the exterior of our bodies safe by allowing the good bacteria to flourish especially in a time like now!
.
.
Hydrogen peroxide is a safe disinfectant which again kills the bad and allows the good to keep its home. little known fact, they use it in hospitals and doctors offices instead of bleach because it is less harmful to our respiratory system but still does the same work.
Lavender essential oil and aloe vera are added to soothe the skin cells and prevent from dryness.